february recap [2018]
and i'm back from hiatus! yay! february was a great month and can you believe we're 1/6 into the year? no? neither can i XD but i'm still feeling good about it, so that's a plus.
i started the month by reading
all the crooked saints
after the library had withheld it from me for a full four months or so (see how popular maggie stiefvater is??). ugh. but in the end they had to give it to me. it was actually good - slower moving, and less action, but still stiefvater to the core. the writing style though *happy sigh* anyone who loved the scorpio races but had trouble with the raven boys really needs this :D and those who like the raven boys need this even more XD
i finally got the paperback of
andora's folly
after the first copy that was mailed to me took a long detour to the province where i no longer live. it's the first time i reread it since the beta-reading and it was just as awesome and adorable as ever and hey! my name is in the acknowledgements!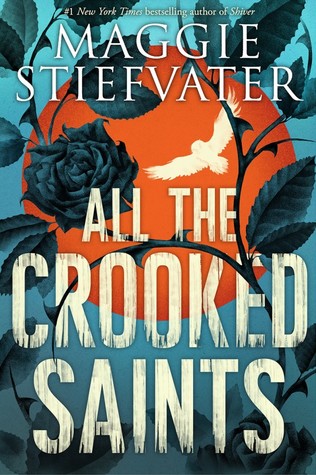 i had planned to read bronte and austen this month but no i was not in the mood. instead i got two arcs -
porch swing girl
by taylor bennett and
the rebellion
by livy jarmusch. both will get review from me later - all i can say now is 100% recommended :D i borrowed
thunderhead
and
curio
from the library of the next "town-ship".
thunderhead,
though not as good as
scythe,
was still a great sequel. and
curio
was the first ever steampunk fantasy i've read, and since it was by donita k. paul's daughter, what could go wrong? it was a bit ... romance-y for my taste though.
i recieved five splickety magazines from rosalie valentine (bc i won her giveaway) and i really feel that i need to get back to flash fiction writing. in fact, i might dedicate all of camp nano in april for it, if i finish my first drafts by then :D
one more book needs a mention here.
the seven pillars of health
by dr. don colbert. in case you didn't know, i'm a teensy bit of a health nut with my family. XD i totally recommend this book no matter who you are and no matter what your health condition. even if you don't need to make any changes to your habits, STILL GO READ THIS. you'll feel that much smarter afterwards.
broccoli queen is at 250 pages! only 50 more to go! *cheers myself onward* *gives me more chocolate* i've reached a point with this where i just ... love it. i used to have this enthusiasm and infatuation with the idea, and then it died off, and i hated the book. i hated writing it and i hated how mediocre it was. but i forced myself through and now i love it. i don't care if no human ever reads it. i don't care how HORRIBLE it is. i love it and i could spend years polishing it. i think. never know when i will change my mind XD
still watching the regular mystery series hawaii five-0 (the old one). i think we're in season 9? i'm not sure. we finished macgyver season 2 and it was a blast! we went to the library recently and came back with a ton of never-before-seen movies like ...
home alone and home alone 2. they are highly unrealistic, and exist just for the sake of comedy. i mean, sure we had a lot of laughs, and there were the nice things about it, but seriously ... it wasn't very deep or impressive. just ... funny. and number 2 was just ... a carbon copy of number 1. proabably so that the filmmakers could make more money. but at least we had the laughs.
ballerina. if this had existed when i was 6, my life would basically have been complete. i mean i loved ballet as a kid! so this was like a throw-back to my childhood. french setting, inspiring storyline, entertaining characters, the funniest love triangle of ever (for once, i approved) and just ... yeah, i really, really enjoyed it.
oh and there was frozen but we've already seen it like ... four times? three? mostly at OTHER PEOPLE'S HOUSES when it was just released.
THE OLYMIPCS. THE OLYMPICS. THE OLYMPICS. someone come and fangirl with me about the epic events! we had so much fun watching live and replays on the internet. pls tell my you are a sports enthusiast? bc i am :DD canada did record-breaking well, so i'm "a proud parent" like one of my friend's put it (you know who you are XD).
i finished off career planning, trigonometry (with the highest scores yaaayyy), biology and now ... onwards and upwards! hurray! i'll be honest and say that sometimes i really really don't want to do school (surprise, surprise) but i force myself to smile at it and say, "nice to see you. again."
we had snow for the first time in forever (hey look what i did there) and we HAD TO DIG OURSELVES OUT but then it went and melted before we had the chance to ski *cries* at least i got to make gorgeous snow globes. do you know what my earliest winter memory is? discovering that making perfectly round snowballs is way way harder than movies make it look like XD
ugh this section again. how does one remember all that happened?
i can't remember anything else my brain is fried. all i know there were so. many. blog aniversaries. congrats y'all!!! (oh hey look southern lingo is rubbing off me. who would have thought that i could ever type "y'all". huh.)
well i redid a few things around here. obviously quite unnoticable, but still (lol #sarcasm) my header is incredibly annoying because the white on it is less white than the white on the background (!!) So do excuse the imperfection. I have to figure out how to fix the bothersome thing.
what do i hope to accomplish in march? well, i want to finish that broccoli queen book, read 15 contemporaries, write three flash fic stories, finish beta reading one book so i can take a break before i have to dive into even more beta reading.
so, what's been going on in your month? do tell!